03 October 2018
Innovating, performing, protecting
How ROCOL® advanced technology solutions improve performance with minimal environmental impact.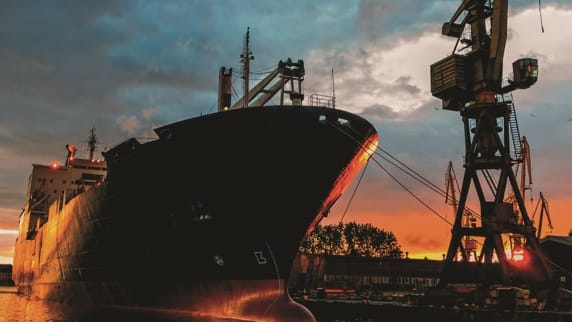 At every stage of development, a "no compromise" approach to performance was embraced to help customers extend the operational life of critical wire ropes. BIOGEN Marine Rope Dressing is designed specifically to perform in the most challenging industry conditions. It has been introduced by ROCOL for use in ports, shipping, dredging and deep sea fishing operations anywhere, in fact, where the environment is wet, humid and salt saturated.
The formulation uses a unique additive package which produces two key benefits. First, it provides a high performance hydrophobic barrier and exceptional water wash-off resistance in wet and even submerged conditions giving superior corrosion protection.
The same system also minimises fling-off, reducing the possibility of lubricant falling from the rope onto the ground, cargo or crane cab. This is an issue usually associated with high-speed cranes and can cause safety hazards, customer complaints, environmental issues or reduced crane driver visibility. In the unlikely event of fling-off, BIOGEN Marine Rope Dressing is off-white in colour and easily cleaned, leaving no residues.
The viscosity of BIOGEN Marine Rope Dressing was carefully selected to ensure that it could easily pump through all automatic lubrication systems, which work in synergy with the dressing to assist lubricant penetration between strands of the wire rope. The use of an automatic lubricating system is recommended to secure best performance; however, application by cloth and brush also delivers exceptional results. By using BIOGEN Marine Rope Dressing, it is possible to extend rope life and increase re-lubrication intervals.
In warmer climates, some lubricants melt and drip, preventing them from protecting the ropes. The superior thickening structure devised by ROCOL means that BIOGEN Marine Rope Dressing will not melt in even the hottest climates, therefore providing longer-lasting rope protection.
In December 2013, new regulations came into force requiring the use of Environmentally Acceptable Lubricants in all oil-to-sea interfaces on vessels entering US waters. These legal requirements are described within the VGP. The US Coastguard is responsible for ensuring compliance with the VGP and any deficiencies are reported to the Environmental Protection Agency (EPA) for enforcement; penalties can include significant fines and imprisonment.
Additionally, to reduce the risk of any leakage or spills of harmful oils into the aquatic environment, the EPA strongly encourages the use of environmentally acceptable lubricants in all above-deck equipment.
An EAL must meet the definition as described by the VGP. The lubricant and all of its components must be biodegradable, minimally toxic and non-bio accumulative. BIOGEN Marine Rope Dressing exceeds all of these requirements and is therefore fully VGP compliant. It is also registered to the European Ecolabelling programme.
European Ecolabel is an internationally recognised programme and can be used during VGP examinations as proof to inspecting authorities that BIOGEN Marine Rope Dressing meets all requirements of an Environmentally Acceptable Lubricant and the VGP. The non-hazardous nature of BIOGEN Marine Rope Dressing also ensures operator safety.
All ROCOL products are taken from initial concept through to manufacture, ensuring market-leading innovation. BIOGEN Marine Rope Dressing is no exception; every aspect of the lubricant's properties has been considered during development. These include application, performance, health, safety and environmental profile.
BIOGEN Marine Rope Dressing can be purchased internationally. To locate your nearest stockist or for more information, please contact customer.service@rocol.com