04 January 2022
Keep the wheels of the automotive industry turning with effective lubrication management
Are your priorities keeping your assembly line moving quickly and efficiently? Here we look at the role automotive and industrial lubricants play in keeping production lines moving.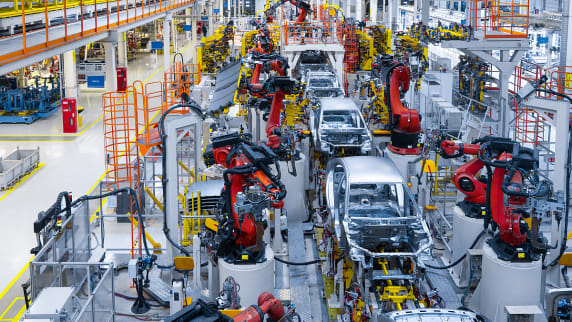 Over 75 million passenger vehicles are produced each year across the globe, driving this fast-moving, billion dollar industry forward.
With the introduction of greener technologies such as the electric vehicle, production has not slowed down, instead accelerating to meet the demands of a growing world populace. It is critical that automobile manufacturing continues to operate at speed, without interruption, and this requires ongoing specialist care for production machinery.
Your priorities are keeping your assembly line moving quickly and efficiently, and reducing the risk of contaminants that can lead to vehicle rejections. In this blog, our technical team looks at areas of potential risk, and the role automotive and industrial lubricants play in keeping production lines moving.
No room for error in the automotive industry
There are multiple steps in the automotive assembly journey, each one reliant on machinery that works efficiently, often on a continuous 24/7 cycle. It takes high performance products and advanced solutions to keep your assembly lines moving to ensure vehicles are produced lean. Premature failure of even the smallest component can result in significant downtime and loss of production – downtime you simply cannot afford.
From the gears operating press shop machinery to the wire ropes and conveyors moving heavy vehicle parts along to the next stage, it's crucial that every last machine bearing, electrical contact or rope chain remains operational – day and night – to keep your plant working for longer, free from interruption.
Upping the ante with Just-In-Time manufacturing
The widespread use of just-in-time (JIT) manufacturing reduces the margin of error even further. Aligning raw material orders with production schedules increases efficiency and decreases waste but leaves no room for mistakes when it comes to maintaining continuous production.
Assembly line uptime is critical and the ability to keep machines moving by extending maintenance intervals and reducing the risk of equipment failure is an absolute priority for any automotive manufacturing facility.
Prevent paint shop rejections with the right industrial automotive lubricants
It takes several robotic sprays and ovens working at extreme temperatures to achieve the premium finish your customers are expecting from their new vehicle. The slightest imperfection can lead to product rejection, forcing you to repeat the entire process – and costing you time and money.
Equipment maintenance in this unique environment requires lubricants that are silicone-free, non-drip, suited to the atmospheric conditions and compatible with the paint in use to achieve the best results.
A lot of rejections occur at the paint shop stage if oil or grease drips onto the paint area, causing "fisheyes": the spots or bubbles that lead to rejections. This was the case for leading automotive component manufacturer Endurance Technologies Ltd., who found themselves facing issues with the trolley bearings on a powder coating conveyor. Grease separation was causing base oil to drip onto the track and components, resulting in product rejections.
The solution was SAPPHIRE Ultra: a non-melting grease with no drop point that eliminated separation and the subsequent dripping. Not only did this reduce vehicle rejections, it also extended lubrication intervals, saving the business money.
Another cause for concern in this environment is silicone, which affects the paint adhesion process. Even a tiny amount of rogue silicone can wreak havoc in a paint shop. Finding a silicone-free lubricant that can deliver the performance levels required can be a challenge, but one that the ROCOL technical team has overcome with the development of SAPPHIRE Premier and SAPPHIRE Ultra.
Developed by an in-house team of highly skilled engineers and chemists, these technically advanced lubricants are relied on by leading automotive manufacturers across the globe, including Honda, Nissan, Toyota, Jaguar Land Rover, Denso WEBB, Winar, Movetech, TAL and BASF.
So if you're looking for products and support to keep assembly lines and automotive equipment free from failure or contaminants, protection against corrosion to extend machine life, or lowering total cost of machine ownership and labour costs, we can help. Contact our expert team today.