23 September 2020
Not all food grade lubricants are created equal
Andy Howard, food processing and hygiene segment specialist at ROCOL looks at why it's important to look beyond 'food grade' as a catch all for factory maintenance products.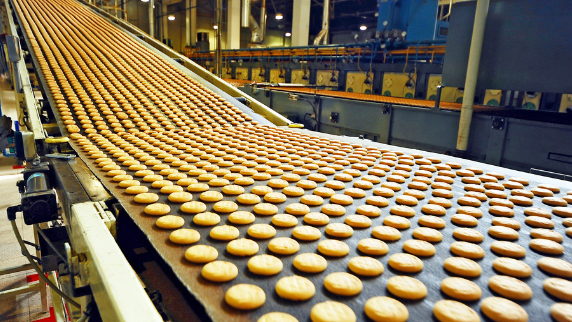 With a firm focus on maintaining clean, hygienic and safe production environments, it is now standard practice across most food and beverage production facilities to use food grade lubricants as part of ongoing maintenance routines to reduce the potential risk of contamination. Doing so gives manufacturers full traceability, ensures audit compliance and provides peace of mind that every step has been taken to protect the reputation of their company or brand.
'Food grade' doesn't really have a specific definition, but generically refers to a product that is suitable for use in a particular aspect of food production, provided that it is used correctly – It covers a wide range of materials and situations. Using the wrong product in the wrong place can create a contamination risk, exactly the scenario you are aiming to avoid.
So how do you select the most appropriate lubricants for equipment maintenance across your production site?
Step one: Look for NSF registration
NSF is a global, independent organisation that develops public health and safety standards through the provision of certification and testing services.
Lubricants that have their formulations registered with NSF can be considered suitable for the category of use that it is registered for. All NSF-registered lubricants must display the NSF logo, the relevant category code(s) for which it is registered and the NSF registration number.
Some NSF categories confirm that the lubricants registered are safe for incidental contact with food. There are concentration limits that define 'incidental' contact for different materials, and it will be down to HACCP programmes to establish whether contact is incidental within the limits set out in the regulations.
Step two: Choose the right lubricant for the job
Different machinery and production environments have different maintenance requirements, and it isn't as simple as selecting an NSF registered product and assuming it will be suitable for use in your factory.
The NSF has a range of usage categories for maintenance products. It's important to know what the different NSF category codes mean, and where and how different food grade products can be used in food and beverage production facilities.
Here's a rundown:
NSF H1: A lubricant labelled H1 can be used in food processing areas where incidental food contact can be tolerated. A common misconception in the food industry is that an NSF H1 lubricant ensures food product safety and integrity, when in fact H1 lubricants are only safe for incidental food contact. HACCP programmes will need to establish whether contact is incidental.
NSF H2: Indicates lubricants that can be used in a food processing area provided there can be no contact with the food. This category is not food safe.
NSF 3H: References release agents that can be used in contact with food within the limits set out in the relevant regulations, e.g. FDA 21 CFR 172:878 for white oils.
NSF HT1: A product labelled HT1 indicates a heat transfer oil that can be used in environments where there may be incidental food contact.
NSF K1: Indicates cleaning and/or degreasing solvents. This category is not suitable for use in processing areas.
NSF K2: Denotes solvents used for cleaning electronic instruments and devices. This category is suitable for use in processing areas.
NSF K3: Used for adhesives or glue removers. Products in this category are suitable for use in processing areas if washed off with detergent and rinsed.
NSF A1: Indicates general cleaning compounds. Products classified in this category are suitable for use in and around processing areas if rinsed off afterwards.
NSF A7: This classification denotes metal polishes suitable for use on non-food contact surfaces in and around food processing areas.
NSF C1: This category indicates products suitable for use in inedible product processing, non-processing areas and/or exterior areas of food production facilities.
The term food grade is widely used, but it's important to recognise the specific requirements of each operational and maintenance process in your food or beverage processing facility. If you are in any doubt about which products are most suitable, contact a member of the ROCOL team who can help guide you.