19 July 2021
The role of lubricants in pharmaceutical Good Manufacturing Practice (GMP)
In this article we discuss the role of Food Grade lubricants in keeping pharmaceutical processing facilities running and their importance in contributing to Good Manufacturing Process.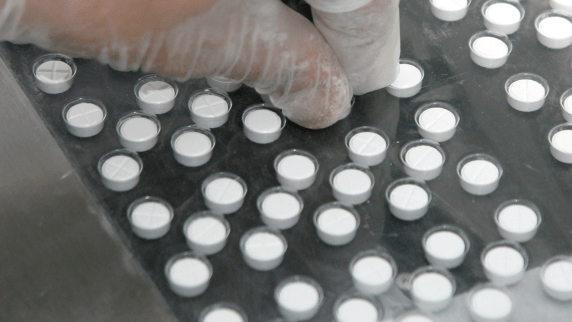 In this article we discuss the role of Food Grade lubricants in keeping pharmaceutical processing facilities running and their importance in contributing to Good Manufacturing Process.
Across the globe, world-leading pharmaceutical companies are operating day and night to manufacture products that help manage sickness and provide pain relief. Machinery used in pharmaceutical production needs constant care to keep it moving. Yet in applying lubricants to mixers, coaters, blister machines and tablet presses there is a potential contamination risk, and even a minor threat can lead to a plant closure.
Controlling possible contamination routes is vital to reducing risk and using the correct food-grade lubricant in the right circumstances to ensure machinery stays operational, compliant, and contaminant-free has a role to play in achieving Good Manufacturing Practice.
Lubrication of machinery in the pharmaceutical industry
As is the case in many industries that use specialist machinery, developing and implementing a bespoke maintenance regime is key to minimising unplanned downtime and ensuring that equipment continues to perform efficiently and cost effectively.
Machinery with moving parts, such as tablet presses, blister machines, blowers, mixers, and coaters, will require regular lubrication as part of a wider maintenance regime. Within Good Manufacturing Practice, consideration should be given to using a lubricant that is considered 'food grade, for example NSF H1 registered or registered manufactured to the ISO 21469 standard.
What is Good Manufacturing Practice?
Good Manufacturing Practice (GMP) covers the manufacture of active pharmaceutical ingredients (APIs) and final products. It ensures that products are consistently produced and controlled according to quality standards and aims to minimise the risks involved in pharmaceutical production that cannot be eliminated by testing the final product.
GMP covers all aspects of production from raw materials, premises, and equipment to staff training and hygiene, and requires detailed written procedures for every process within the manufacturing facility that could affect finished product quality, along with evidence that those procedures are followed at every step of the manufacturing process.
Who defines

GMP

?
The European Union sets laws for the manufacture and distribution of medicines and healthcare products. Laws are set by the Public Health section of the Health and Food Safety directorate general, and the European Medicines Agency (EMA) is responsible for their harmonisation.
In the UK, the Medicines and Healthcare products Regulatory Agency (MHRA) regulates the manufacture and distribution of medical and healthcare products. Most of their laws are defined by the EU laws above, but the guidelines they issue are their interpretations and applications. The MHRA produces the Rules and Guidance for Pharmaceutical Manufacturers and Distributors in a publication known as the Orange Guide, which details the relevant laws and the specific MHRA guidance to assist with the application of these laws in the UK.
MHRA and EMA also control Good Laboratory Practice (GLP), Good Pharmacovigilance Practice (GVP) and Good Distribution Practice (GDP), covering the licencing of medical products, their development and clinical trials, auditing, and enforcement of the law.
What role do food grade lubricants play in achieving

GMP

?
Food grade lubricants are used for the lubrication of machinery in the pharmaceutical industry and are purpose-designed to help minimise risks. This directly supports GMP. Section 2 of GMP as in the Orange Guide recommends that there should be no contact between starting materials or Active Pharmaceutical Ingredients (APIs) and products – such as lubricants – that are associated with the operation of equipment. To further reduce contamination risks, the Orange Guide recommends the use of 'food grade lubricants and oils' on machinery used for processing APIs.
There are also certain downstream manufacturing processes where finished products are handled and food grade lubricants can help enhance product safety, for example when used as a release agent on tablet presses. Whilst there is no direct contact between the mould backs and the tablets, the lubricant will be above the level of the tablets.
The lubrication of conveyors, rollers and other handling equipment may require an incidental contact lubricant (H1) if there is a risk of contamination, product contacting moving parts or
washout of grease during cleaning. In these cases, a highly washout-resistant grease such as FOODLUBE Ultra could be beneficial.
Sterilising or sterilised equipment may also require lubrication. Perfluoropolyether (PFPE) materials, such as ROCOL's SAPPHIRE Endure or FOODLUBE Endure 00, may be suitable lubricants for sterilised mechanisms and the equipment containing them.
Why choose

ROCOL

products for lubricating machinery in the pharmaceutical industry?
ROCOL has been producing high performance, technically advanced solutions for more than 130 years, and our comprehensive range of food-safe lubricants, FOODLUBE, ensures a safe and compliant manufacturing process.
Using ROCOL products has been proven to extend component life – ensuring maximum efficiency and productivity – increase lubrication intervals – reducing overall lubricant and labour cost – and reducing equipment downtime.
FOODLUBE products are formulated using only FDA-listed ingredients. They are free from GMOs, the main 14 food allergens, mineral hydrocarbons, and are manufactured to ISO 21469, AS9100 and ISO 9001 standards to deliver contamination-free lubrication and help pharmaceutical companies manufacture in line with GMP standards.
ROCOL is a world-leader in high-performance lubrication and machine maintenance solutions, and our products are formulated and developed by highly skilled chemists and engineers to provide optimum support to the pharmaceutical sector. For more information about the role of food grade products in pharmaceutical GMP lubrication, do not hesitate to contact us.
If you have any questions regarding our FOODLUBE products please do not hesitate to contact our FOODLUBE Segment Specialist,
Andy Howard BEng CEng MIMech
E: andy.howard@rocol.com
T: +44 (0)7730 486828.