26 August 2021
Vegan Food Production: Guidance on Good Manufacturing Practices
We examine good manufacturing practices (GMPs) for vegan products that will help vegan product manufacturers maintain the integrity of their vegan production lines.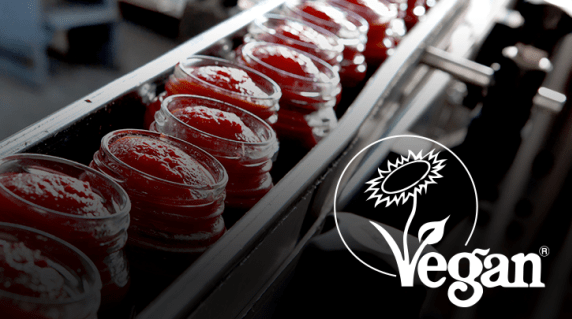 We examine good manufacturing practices (
GMP

s) for vegan products that will help vegan product manufacturers maintain the integrity of their vegan production lines.
As more people than ever adopt vegan diets or choose plant-based over meat and animal products, there has been an explosion of innovation among food manufacturers. This has led to an abundance of vegan and plant-based products on supermarket shelves, giving consumers more choice than ever before.
We look at some of the health and ethical drivers behind the move towards a vegan diet and examine good manufacturing practices (GMPs) for vegan products that will help vegan product manufacturers maintain the integrity of their vegan production lines.
_____________________________________________________________________________
Data from SmartProtein/Nielsen reports 73% growth in sales of plant-based food in the UK between 2018 and 2020, and 63% growth in sales of plant-based meat alternatives as consumers reduced their meat consumption or switched to vegan, vegetarian, or flexitarian diets. Alongside an influx of vegan food brands, many mainstream manufacturers have also been building their plant-based food businesses.
The ability to substantiate vegan food claims is becoming increasingly important in this fast growth area. Processing vegan and vegetarian products requires specific manufacturing strategies to avoid the risk of cross contamination with animal-derived ingredients during the production process, as companies push forward with ambitious NPD strategies to capitalise on a food trend that is showing no signs of slowing.
The shift to plant-based diets
Research published in Vegan Food & Living magazine suggests that plant-based diets could replace traditional diets within 100 years. That same research by Business Expert into the vegan economy says that one in eight Brits – almost 13% of the population – is now vegetarian or vegan, with a further 21% identifying as flexitarian, meaning that at least a third of the population is actively reducing their intake of animal products.
The main drivers behind this shift are health, wellbeing, animal welfare, and environmental concerns. The health benefits of a balanced, wholefood-rich vegan diet are well documented, and include weight loss, mood boost, improved skin condition, and a reduction in the risk of cancer, Type 2 diabetes, and other diseases.
The environmental and animal welfare arguments are supported by research from the University of Oxford, which states that a vegan diet could be the "single biggest way" to reduce your environmental impact as a consumer, resulting in a significant drop in greenhouse gas emissions and reducing the loss of wild land to agriculture – one of the main causes of mass wildlife extinction.
An explosion in plant-based innovation
Innovation in plant-based categories has rocketed, leading to far greater choice and making it easier and more appealing for consumers making the shift to a vegan, plant-based or flexitarian diet. As food manufacturers race to capitalise on this shift, there are questions around vegan claims and how they can be substantiated.
Product labelling remains an area of some confusion. For people with allergies, the difference between 'free-from' and 'may contain' on a food label can be the difference between the product posing a serious health risk or not.
'Free-from', 'may contain', 'vegan'?
When it comes to vegan food choices, consumers are looking for products that do not contain animal products or ingredients. Perhaps the most widely recognised and accepted certification in this regard is the Vegan Trademark. Introduced by the Vegan Society in 1990, the mark is designed to help people identify products that are free from animal ingredients. The trademark currently features on more than 53,000 products worldwide including cosmetics, food, and drink.
Products that display the trademark must demonstrate that:
The manufacture and/or development of the product, and its ingredients, must not involve or have involved, the use of any animal product, by-product, or derivative.
The development and/or production of

GMO

s must not have involved animal genes or animal-derived substances. Products put forward for trademark registration that contain or may contain any

GMO

s must be labelled as such.
Any dishes that are to be labelled vegan must be prepared separately from non-vegan dishes.
Maintenance considerations for vegan food manufacturer
When it comes to preparation and processing, manufacturers already engaged in the production of vegan and free-from foods, or in managing allergens on site, will know that establishing robust manufacturing processes is key. However, best practice should extend beyond manufacturing and into maintenance practices.
This includes areas such as establishing approved and trusted supplier lists to ensure traceability throughout the supply chain, and setting up Standard Operating Procedures (SOPs) in line with Total Preventative Maintenance (TPM) or similar quality-led approaches.
Ingredient segregation and storage is incredibly important, and well thought out production schedules are instrumental in minimising cross contact and contamination. Where dedicated facilities are not available, production scheduling should consider the ingredients in all foods manufactured on lines involved in vegan food production, scheduling vegan products first and ensuring that the line is cleaned between foods with vegan and non-vegan profiles.
Product selection for vegan machinery lubrication
The products you select for cleaning and maintaining the equipment used to manufacture vegan products also have an important part to play. Most manufacturers are aware of the safety and traceability benefits of using food-grade lubricants and cleaners and look for the relevant NSF registration on the products they select. But what about lubricants that have been independently certified as vegan? This is a recent innovation, and one that – at the time of writing – only applies to products from industrial lubricant and cleaning products manufacturer, ROCOL.
Training is often overlooked, but knowledge can be the difference between using a vegan certified product on your machinery over a standard lubricant. It's important that everyone in your team can look beyond "food grade" as a catch-all for food factory maintenance products, and understand which products are suitable for which applications – and which products will support your vegan manufacturing credentials.
In the rush to capitalise on new market opportunities, make time to look at the big picture. Extending the number of vegan registered products used in your supply chain is an opportunity to further strengthen your vegan manufacturing credentials.
So, when you're looking for maintenance products to use on vegan production lines, look for the Vegan Trademark alongside the relevant NSF approvals, and choose a lubricant supplier who can offer technical support and training for your maintenance team to maintain the integrity of those lines.